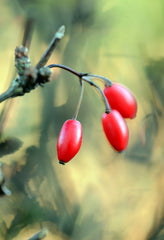 Berberine is a natural compound that has garnered attention for its variety of wellness benefits. Derived from the roots and bark of plants in the Berberis family, this golden-yellow alkaloid has a rich history in traditional Chinese and Ayurvedic practices. In this blog post, we'll delve into the numerous wellness benefits associated with berberine. Let's explore!

1. Aids in Balancing Blood Sugar Levels
Berberine has been linked to assisting in maintaining balanced blood sugar levels. It's believed to enhance insulin sensitivity and support overall health.

2. Contributes to Cardio Wellness
Some studies suggest that berberine can support a healthy heart by assisting with blood flow and reducing inflammation.

3. May Assist in Weight Management Goals
For those looking at natural ways to support their weight management journey, berberine might be an option. It's thought to enhance metabolism and support energy balance.

4. Boosts Mental Sharpness
Berberine's potential benefits also touch upon cognitive aspects, where it's believed to help with memory, learning, and attention.

5. Supports Digestive Wellness
A balanced digestive system is crucial for well-being. Berberine may play a role in maintaining a harmonious gut environment by fostering the growth of helpful bacteria and supporting digestion.

Conclusion:
Berberine is believed to offer a spectrum of wellness benefits. Whether it's supporting blood sugar balance, heart wellness, weight management, mental sharpness, or digestive health, this natural compound is worth exploring. As always, it's essential to consult with a wellness professional before introducing any new supplement into your regimen.