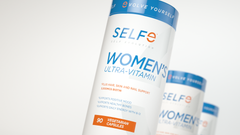 You already know it's hard to keep a balanced diet:
All the planning
Time shopping for nutritious organic food
Preparing and cooking
Plus having the discipline to stay on it, etc.
You're working your way to do the job, but let's get real.
How often do you feel confident that you're eating well?
Because being aware of what you're eating is an important part of fitness, SELFe supplements are essential to ensure balance.
Take SELFe Women's Ultra – Vitamin and you will instantly provide the nutrients you could be missing from your diet.
SELFe Women's Ultra – Vitamin is designed to support healthy bones and healthy hair, skin, and nails.
It is also packed with nutrients that are necessary for generating energy and a positive mood.
SELFe Women's Ultra – Vitamin also includes a Prop Blend of fruit extracts, herbs, spices, and superfoods like wheatgrass and chlorella so that you can continue being amazing.
Now, imagine your relaxed smile of relief. You'll call it
Evolving
.